Nick Craig has risen to the challenge set in WHOTT's News! 33 to fill a colour page and has provided this interesting selection of his photographs of Burton's of Brixham.
Many people recall the 'Burton Cars' of Brixham, a business begun by Jimmy Geddes in 1925 with a second-hand Fiat charabanc. Jimmy and his wife ran the Burton Hotel, actually a pub, and it was logical to use an established name. Soon he was operating on the road to Paignton and then also to Kingswear in the cut-throat days before the Road Traffic Act. During the thirties the firm settled on the Brixham –Kingswear run.
After World War Two, 'Burton Cars' ran jointly with Devon General on the Kingswear road and later began a local Brixham service to Sharkham Point. Additional work came from tours, contracts and private hire.
In 1976 a limited company was formed, Brixham Coaches Limited, run now by Bruce Geddes, son of the founder. However, in 1982 ill health caused Bruce to sell the business.
There followed a six year period of considerable activity under consecutive owners. During this time the bus industry was deregulated and the National Bus Company was broken up: Devon General was the first company to be privatised, under the leadership of Harry Blundred. During the brief 'bus war' that broke out between Bayline / Devon General and Burton's, the fleet expanded, re-introduced double deckers and for the first time in over 50 years Burton's vehicles ran to Paignton and on to Torquay. The livery until 1982 was a dignified grey and green, but the new owners opted for rather bright yellow based schemes. The competition was such that at one time the Brixham-Kingswear road saw two Burton's and two Devon General double deckers each way each hour.
It could not last of course. In August 1988, the Brixham Coaches business was sold to South Midland, another Blundred company. The fleet was replaced and the new vehicles ran under the Burton's name until 1993. The Burton's name has now disappeared from the road, but the Burton Hotel remains very much in business.
The full story of the Burton Cars has been told by Roger Grimley in his 1997 book 'A Pint of Beer or a Return to Brixham' and by R.C.Sambourne in Buses Illustrated No. 67, from October 1960.
COMFORT IS OUT MOTTO: THE STORY OF TAYLORS' CENTRAL GARAGES, EXETER
Anyone wishing to go on a coach tour from Paul Street, Exeter in the years after the Second World War had a choice of two operators, both with booking offices in Queen Street and keen rivals. A third firm, Knight's Tours (successors to Harry Punchard's "Rambler") also ran tours but they were restricted to a single vehicle starting from Shooting Marsh Stile, Exe Bridge.
Greenslade's Tours, a business that started in Bradninch, moved to Exeter and acquired other operators at Witheridge, Crediton, Teignmouth and Exmouth, etc. Their office was near the Civic Hall while their competitors, Taylor's Central Garages, had premises further down the street, opposite the Royal Albert Museum.
Both firms started from the lower section of the Paul Street parking ground and on summer days a line up of biscuit and green coaches belonging to Greenslade's and the cream and blue vehicles of Taylor's stood ready to depart for whole day trips to "The English Switzerland" (Lynton and Lynmouth), the "Doone Country" (Exmoor), Cheddar Caves, Tintagel, Bude and Clovelly. On the afternoon departures, destinations included Dartmoor, Dunkery Beacon, Buckfast Abbey and Slapton Sands while short evening drives went to Haldon Moors, Woodbury Common or Steps Bridge.
William James Taylor, the son of a cabinet maker, was born in the West Quarter of Exeter in 1864. He went into business as a coachbuilder and painter, trading from premises in Frog Street and as the business grew he opened showrooms on the third floor of these premises, fronting on to New Bridge Street. In 1889 he married Amy Loveday Jenkins, the daughter of a Coastguard Officer, and they had a son, Frederick (born 1890).
By 1916 he was also involved in the motor trade, operating a 10hp Darracq as a taxi / hire car and undertaking motor engineering. After the end of the Great War, when he had built up a small fleet of cars, one of which was convertible to a hearse for use by some of the city undertakers, he decided that the time was right to expand the passenger carrying activities. On 2nd June 1920 he bought a 12-seater FIAT charabanc that was named "Glorious Devon" and advertised as "a luxurious charabanc for hire for select and private parties of twelve. Specially fitted with pneumatic tyres and spring tip-up seats which ensure comfort and easy riding".
Want to read the full story, then become a member and receive our quarterly newsletters.
WHAT TIME IS THE NEXT BUS?
In WHOTT's News! Issue 29 we promised an article on developments in bus stop technology, changes that potentially will send traditional paper timetables the same way as bus conductors ….
To illustrate these developments we will use the Real Time Passenger Information (RTPI) currently provided in Plymouth. RTPI is a system that tracks buses using satellite technology. The system can use the actual location of the bus and report its expected departure time at various bus stops on the route. These departure times can be found on electronic signs along the route, can be requested by SMS text message or can be accessed via the internet.
The information displayed is a combination of 'real time', the actual time a bus is expected to depart from a stop, and 'scheduled' departure times, as shown in the traditional bus timetable for departures operated by a bus not equipped with RTPI equipment. This enables a comprehensive picture for all services operating within the city boundary to be maintained. In theory this will allow passengers to make an informed choice about their travel plans and spend less time waiting at bus stops.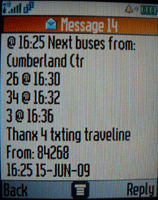 A number of the bus shelters at busy departure points on key routes in and out of the city, such as Royal Parade, Saltash Road, for the railway station, Crownhill Low Level and St. Budeaux Square are fitted with RTPI electronic displays which show the departures times of the next three buses. A bus on the real time system which is less than 20 minutes away will show its departure time as a countdown in minutes. If the bus is more than 20 minutes away or not on the real time system, times are shown in the 24 hour clock format. The wheelchair symbol is also used to indicate that the bus has low floor access.
Obviously there are considerable costs associated with these electronic signs, so at the majority of stops a more basic but equally effective method is deployed. Each stop is identified with a unique Short Message Service (SMS) bus stop code, in this example plyatpa.(left). Example of text message (right)
Want to read the full story, then become a member and receive our quarterly newsletters.